Having problems to see this? Click here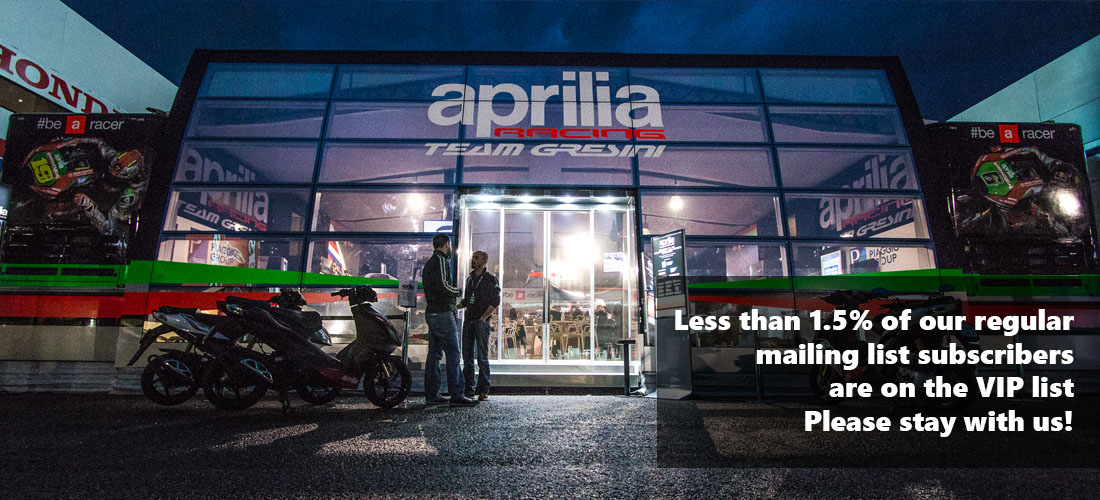 You are currently subscribed to our very exclusive, hand picked VIP mailing list. This very low-volume list is reserved for those interested in top end experiences, sponsorships and very exclusive offers such as the Gresini Black. More like these will be announced over the course of the year. Less than 1.5% of our regular mailing list subscribers are on the VIP list. If you are on our regular list, you will have an invitation to re-subscribe to that one, be aware that these are two separate lists and subscription (or unsubscription) to one does not imply the other.
Introducing The Black.

We are delighted to have teamed up with the oldest privateer team in MotoGP to bring you a unique and exclusive offer: Gresini Black. This sets you up exactly as a team sponsor for a weekend. You will have a personal guide from the senior team management. Unprecedented access to garage, pit lane, paddock, service road and the MotoGP start grid are yours; special photo shoot with bikes and/or umbrella girls; plus some other very special experiences which we don't want to put in writing. Contact us if you are interested. We can only offer a very few of these for the 2018 season.
Team Experience PLATINUM

Once step down from The Black is our MotoGP Platinum Team Experience. Only available to 2-4 customers for any event, this exclusive package sets you up as a guest of one of our partner MotoGP Teams (Aprilia Gresini, LCR Honda or Angel Nieto Team Ducati, or in SBK with Kawasaki Racing) where in addition to top hospitality, you will be able to join the MotoGP Start Grid! In fly-away events such as Sepang, we put you in the VIP Village; in European rounds you are a guest of the team hospitality. Less than 20 places remain for the 2018 season
Rider/Team Sponsorships

In addition to sponsoring ourselves (for a total of about €0.5m this year alone), we have been helping our clients get more intimately involved in the sport. The benefits of sponsorship are enormous, from brand exposure to personal satisfaction and the opportunity to join the paddock as an "insider". For example, one of our long term customers-turned-sponsor is the company REDOX sponsoring Jakub Kornfeil and his Moto3 team. The video of his sensational save at Le Mans MotoGP has attracted>12.5m views since last weekend, and the photos are circulating heavily through social media.
Find out about any MotoGP, WSBK or Isle of Man TT Race!
This message has been sent by an automatic system. Please, do not answer this email directly.
©2018 Pole Position Travel SE
Kaprova 6, Prague 1, 110 00, Czech Republic
UK: +44 191 406 6260, CZ: +420 222 313 663¨, AU: +61 3 8376 7755, US: +1 800 501 0302