(This is just a quick note to all our Austrailasian customers on this very limited - 1-2 times per year - mailing list)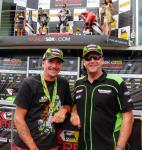 AUSTRALIAN WORLD SBK 24-26 February - FREE TOUR
Owing to last minute availability at next week's World SBK opening round at Phillip Island, in conjunction with our partner team, the SBK World Champions Kawasaki Racing, we are delighted to offer a FREE weekend at the SBK for 2 people.
You will stay 3 nights at our Cowes hotel, with welcome drink, guide, and all ground transfers. At the track you will be a VIP guest of Team Green, visiting their garage, meeting the riders and (hopefully!) getting sprayed by the podium champagne of Jon and Tom!
All you have to do is get there! (And we can help with that)
To enter, simply send an email using our contact form (here), and write a message starting with:
"I deserve a weekend at the Phillip Island Superbike with Kawasaki and Pole Position Travel because: "
and fill out with 1-2 sentences (keep it short!)
We will select a winner at 17:00 (EST) Friday 17/Feb and let you know to pack your toothbrush!
The retail value of this prize is AU$1,740! You can still book this package online -- we are also offering a 50% reduction in the Kawasaki experience for anyone booking the package. Tell a friend!
Also, any package customer is also welcome at the SBK Test on 20-21 Feb - no charge but need to book in advance.
To book online: www.polepositiontravel.com/wsbk/phillipisland