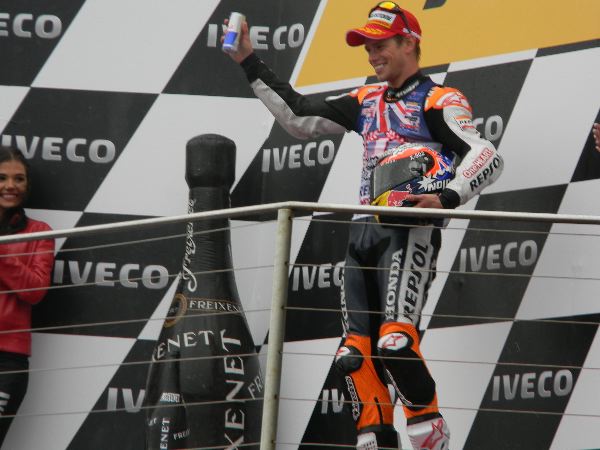 Hi!
This is going out just to our Australasian mailing list since we wanted to give you first notice...
Last chance to see a legend in action!
Casey Stoner's penultimate race, and last one at The Island takes place 26-28 October 2012. Since the annoucement last Thursday, our phones have been ringing off the hook, so we thought we'd let you know what we have planned for this legendary weekend!
Full package tours with tickets from just $695 per person!
To see all products, please visit our website.
At the track:
We have announced a private VIP Village Suite on the pit roof. With our own staff, pit lane walks, special guests, and private paddock tours (including garage tours) this is a unique facility. Open all 3 days. We have already sold 30 of our 40 places! $1500 more...
We also offer special TEAM EXPERIENCES which make you a guest of a Moto2/Moto3 or MotoGP team for the weekend with full paddock access. MotoGP guests will also have a private guided TRACK TOUR on Thursday (actually ON the track!) $1195 (MotoGP) or $860 (Moto2/3) Nearly sold out. more...
We have most Grandstand Tickets and of course General Admission. Highly recommed you add the GP Hub to these! more...
Full packaged tours:

Our tours include a dedicated guide, hotel accommodation, 3 days of track transfers, cool merchandise, and more. Our tour programme is:
THURSDAY evening Happy Hours at each hotel, then dinner in Cowes with a rider (included with Special package, optional on others)
FRIDAY track transfer and evening opening reception with rider guests. (included in Special and Island packages, optional on Budget)
SATURDAY track transfer and evening Legends Night at the track with top MotoGP star (last year Wayne Gardner) (optional, but at a discounted price, for all packages. Book separately here.)
SUNDAY Race Day! Track transfer, followed by closing dinner & drinks (included with Special package, optional on others)
We now offer THREE packages (prices are quoted in AUD without tickets)
Special Package: This is our core package: 4 nights Dinner, B&B in the top hotel in the area, 15 minutes from the track. 2- and 3-bedroom apartments mean this is a GREAT option for groups. From $1450 pp (based on 4 sharing an apartment) Also Single Rooms in shared apartments $1395) more...
The Island Package: Stay right ON the island, just 3km from track and 1.5 km to Cowes in a lovely 2 bedroom self-catered villa. Perfect for Families; and we also offer single sharing. $1295pp in private apartment (two people in room in shared apartment $799) more...
Budget Package: About 1 hour from the track in a clean and simple 3* hotel, perfect if you want to put all your cash into the racing! $505 pp ($695 with 3 day general admission) Last few rooms. more...
Whatever your needs, give us a shout! Contact us on email or phone Susie on +61 3 9999 6809
Cheers!
- The Pole Position Travel (Australasia) Team!
PS -- Check out the fun we had last year! 2011 Gallery
PPS - We're sorry to see Casey go -- in our view the most naturally gifted rider for more than a generation. See our comment in response to his announcement.